There is no question how essential the browser is. We use it for surfing the web, connect on social media, and even to bank everyday. So it is imperative that our experience is not only fast, but private; whether on desktop or mobile.

So why try another browser? Well, meet Brave.
A Chromium based browser
The Brave browser is based of the open source project, Chromium. Chromium is the framework for what Google Chrome is built upon. It takes advantage of the Blink rendering and V8 JavaScript engine for lightening speed HTML and JavaScript loading.

So this is just a Chrome wannabe?

Not exactly but the beauty is that you have all the blazing fast speed that comes with Chrome. You can also install all your favorite browser extensions from the Chrome web store.
Big deal? What really makes this browser better?
Shields up feature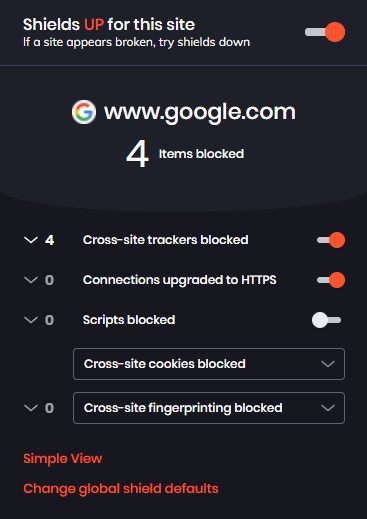 Brave browser comes with a "Shields Up" feature that has become a game changer for web browsing.
Blocks most ads and trackers
Throws away cookies other than sites you visit.
Makes your browser harder to recognize.
Upgrades traffic to encrypted protocols if available.
Blocks malicious code.
This feature comes right out of the box but allows for configuration, too. You can configure to block all cross-site trackers, toggle upgrading to secure HTTPS connections, block all scripts, cookies, and fingerprinting. You can block Google and Facebook logins on third party sites. You can also block embedded Twitter and LinkedIn tweets/posts to negate additional tracking.
Built-in extensions
Brave also comes with some very useful and unique extensions built in.
Uses Google Hangouts component to enable screen sharing.
IPFS for blockchain and smart contact support.
Media Router for Chromecast support.
Private Window browsing for Tor.
WebTorrent for downloading torrents.
Cryptocurrency wallets.
Developer Tools
Basic Attention Token
The Basic Attention Token (BAT) is a cryptocurrency that is built on top of the Etherium blockchain. It's purpose is to become a digital advertising token. The way it works is users of the Brave browser are awarded with BAT tokens for their attention while browsing the web.
All publishers, advertisers and content creators can sign up through Brave Rewards to get started and install a plugin or code to their websites. After that users can now send tips in BAT to these creators if the user finds the content useful.
At this time the Basic Attention Token is only worth 18 cents per token but it is gaining traction as a solid cryptocurrency and will only increase in value as more creators adopt it as a means to generate more revenue from their content.
The browser to rule them all
Convinced yet? Of course you are! With all these features how could you not?
So head over to Brave, download the software, and give it a try!
Bonus
There is one issue that is something the Brave developers do need to work on. That is the JavaScript blocking feature. The script blocker built into the browser is still rudimentary and doesn't allow detailed settings to permanently or temporarily block scripts yet.

However, since Brave is built off of Chromium, it enables us to install Chrome extensions. As it stands, it is beneficial to disable Brave's script blocker for something more sophisticated.
For this, we use the No-Script extension.
1. Install No-Script into your Brave Browser from here.

2. In case you blocked scripts, disable the feature in settings.

3. With that you now have granular support to block only the JavaScript scripts you want from the No-Script extension. In most cases, you only have to temporarily unblock the main site scripts and keep blocked the rest of the ad and tracker scripts to keep a site from breaking when viewing.

In time this will probably be addressed and developed out more but for now the best advice is to use No-Script. You can see each and every external script and can either permanently or temporarily block them.

So enjoy your new browser knowing you are in the most secure position to browse the web along with the most cutting edge technologies bundling in making it the best browsing experience out there.